Freelance designer


April - June 2023
As a freelance concept designer I assisted play innovators with formulating  initial concept proposals and physical concept builds as we explored new ways of play.  This position was a dream come true for me, as I got to  utilize my childhood skills in creative exploration and learning through play.

My work was evaluated based on my creative process, breadth of exploration, play value, understanding of my chosen user's play journey, and my ability to effectively communicate my concept and link it back to my initial insights.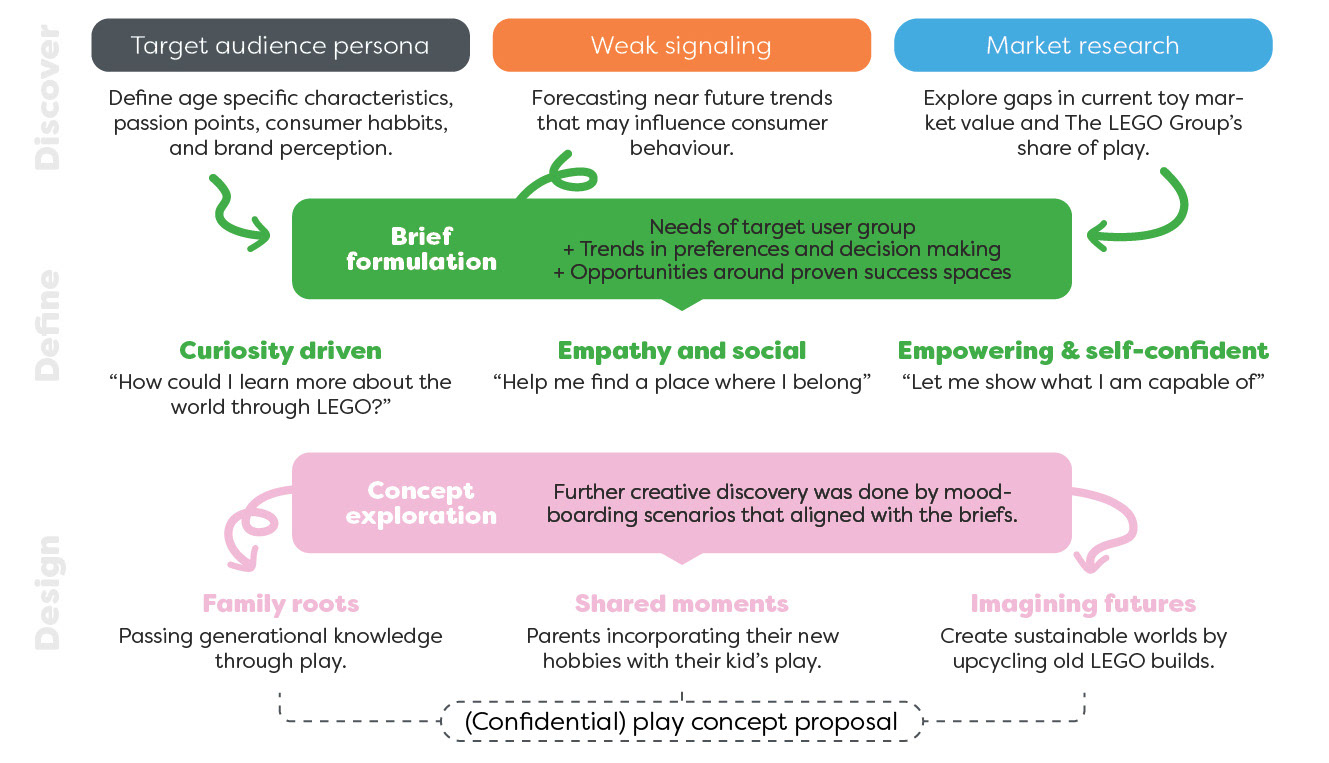 Working within an Agile Scrum framework, we maintained a rhythm of regular stand-ups and weekly reviews to ensure continuous progress towards our goals.
Every three weeks, we would deliver our concepts for playtesting, receiving valuable feedback to iterate and improve our ideas. The excitement peaked during our monthly demo days, where we shared our creations with the entire department.
While I am unable to divulge further details of these proposals due to confidentiality, the experience was instrumental in deepening my design skills and understanding of user-centric design.

Each phase of the project presented unique challenges and opportunities for growth. From devising user personas to conducting market research, and from collaborating with a cross-functional team to constructing engaging play concepts, I learned to harness my inner child's creativity and to view play from a fresh perspective.
Thesis project writer


September - December 2022
In my master's thesis project at The LEGO Group, I studied design activities during the early exploration phase of new product development (NPD). The goal was to help innovation management understand the elements that affect creative employees' work and how they could improve their performance, also known as Employee Experience (EX).

EX refers to the journey an employee takes within an organization, encompassing all interactions, feelings, and perceptions encountered from recruitment through to exit. This holistic concept aims to understand and improve the various touchpoints that contribute to an employee's satisfaction, engagement, and productivity.
Project planning

This research project had a tight schedule, which demanded efficient time management and use of resources. While I initially lacked deep knowledge of the topic area, my intrinsic motivation to enhance the working conditions for my fellow designers fueled my determination.

My journey began by formulating the research topic, grounding it in thorough background research to provide a foundational understanding. A cohesive schedule was sketched, followed by the assembly of a dedicated project team and the recruitment of participants. To ensure alignment and clarity, the research plan was then presented to key stakeholders.

During research
A 6-week empirical study was conducted to empathize the designer's experiences during the NPD process that was kicked off at fall 2022. By mid-November, the accumulated data underwent analysis, identifying critical patterns and insights that would be used to shape the project's conclusions.

Validation and wrap up
In the final phase, the culmination of the research was articulated into a structured report as the project contract concluded in December. The subsequent month was dedicated for presenting the findings to the key stakeholders, ensuring they were equipped with actionable insights and a smooth handover of data for further organizational use.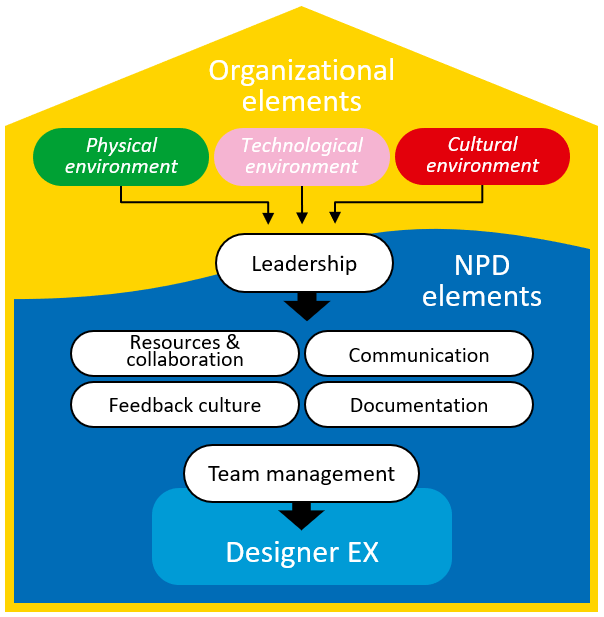 Core elements of team success
The analysis of the case study resulted in seven main findings defining designer EX in early NPD:
Communication, team management, resources & collaboration, physical spaces, leadership, feedback culture, and documentation.
It was indicated that leadership and team management are in a pivotal role in establishing and up-keeping the EX elements during early NPD. Furthermore, the thesis argues that designer EX plays a critical role during early NPD, and organizations that prioritize designer EX are able to establish a culture of fluid innovation and creativity, which may lead to increased NPD success.

Product front end intern


February - June 2022
In 2022 I worked as an intern in the Creative Play Lab's prototypes department product front-end. We collaborated with DUPLO, Ninjago, Technic, and brand new franchises that had different target audiences to consider. Our work was structured in 4 week long sprints, with stakeholders meetings taking place for briefing, intermediate review and demo day presentations.

Working in the prototypes department gave me the chance to see my concepts come to life through rapid prototyping, and I was able to gain a better understanding of the entire design process, from initial ideation to a final product concept. Our iterative design processes were informed by insights from stakeholders and from playtesting with children.
My experience as a design intern allowed me to fully immerse myself in the world of design thinking and product development. Through our collaborative projects, I gained a deeper understanding of the importance of empathy,  and effective communication as I learned the ability to adapt my presentation styles to ensure that my ideas were understood by individuals from diverse fields.