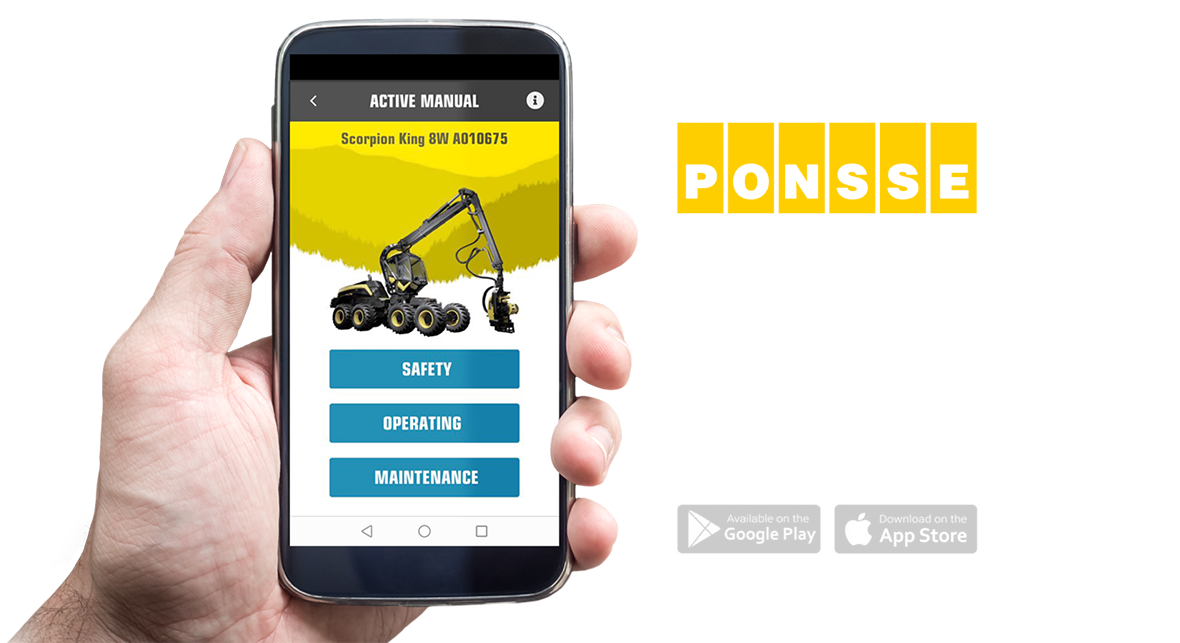 PONSSE Active Manual is an application that provides machine operators audio-visual instructions, assisting users in the

proper maintenance and operation of PONSSE's harvesting machines. By leveraging augmented reality, the

manual offers an enhanced accessibility.

Our team was contracted to design and develop the application. Known for their powerful and versatile harvesting equipment, PONSSE's esteemed reputation set the bar for our project. As the head of design, my responsibility was to ensure the app mirrored their established brand not just visually but also in its usability and overall functionality.
Stakeholder insights

The client

wants to invest in the development of digital tools as the role of data and information in the logging industry has increased incrementally. The digital transformation is introducing an entirely new era of data-driven business that they want to adapt.

Instructors and retailers

want to ease their customers' purchase decision by ensuring a smooth transition to the new machinery and a quick improvement in productivity through the use of the app.

Operators

need quick and intuitive access to machine maintenance instructions, enabling more autonomous learning and reducing reliance on mentors.
Our project goals

Craft a user-centric native app that offers machine operators easy access to vital information and instructions, ensuring efficient, effective operations.
Development journey

User research

We delved into feedback and insights from professional machine operators to truly grasp their needs and pain points. This valuable information allowed us to chart a basic user path and strategize how to arrange information. Notably, we uncovered that operators disliked scrolling in dirty working conditions, which resulted in smudged screens.
Content structure

We understood that the information had to be presented clearly and consistently. Based on this, we organized the content into three core categories: Safety, Operation, and Maintenance tasks.
Diverse content approach

The manual's content combined animated videos with detailed text descriptions. Among these, video content was perceived as the most effective way to showcase instructions in practicse.
Prioritizing safety

Recognizing safety's pivotal role, we placed potential risk factors at the beginning of each chapter. This emphasis aimed to underscore their paramount importance when using the equipment.
UI design & prototyping

As the design lead, I aimed to establish an aesthetic that resonated with the PONSSE brand identity. Moreover, I understood that the instructional content was the priority so I wanted to keep the interface sleek and simplistic. I created preliminary wireframe prototypes using Adobe XD, incorporating the necessary visual elements and UI components. Collaborating closely with developers, we transformed these prototypes into a fully functional build.
Validation & iteration

We recognized the necessity of validating our initial prototype's usability. This involved seeking input from end-users to ensure the product's intuitiveness and navigational ease. Adjustments were made based on this feedback to fine-tune the app's user experience before handing the project over to the client.
Reflection & learnings

During this project not only I gain experience in working on an actual UX/UI project as a design lead, I learned to collaborate with developers. I learned the importance of maintaining alignment on creative vision, and refining assets in bridging the communication gap between design intent and code execution.
Harvesting the benefits of digital tools
The emergence of digital tools in the training of harvester machine operators in the logging industry has brought a multitude of benefits. PONSSE Active Manual helps to standardize the training process and ensure that all machine operators receive the same level of information and instruction. This helps to reduce the risk of human error and increase the overall safety of the logging operations. In addition, the collection and analysis of data can be used to improve the training processes and ensure that they remain effective and relevant.